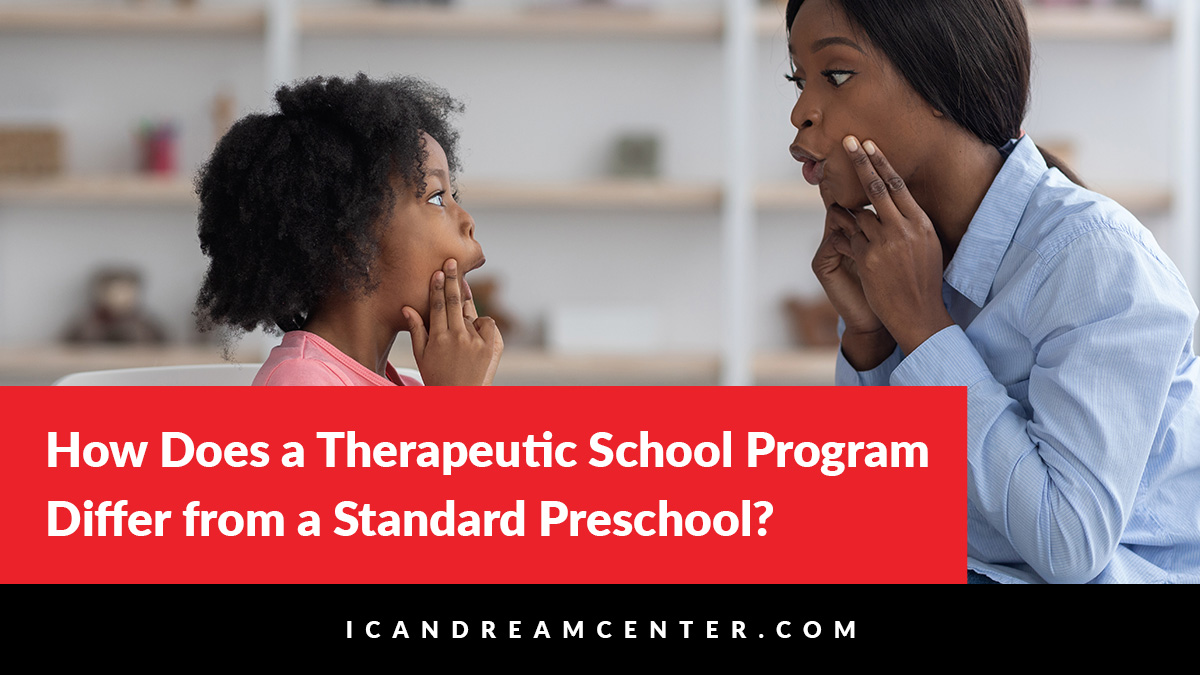 How Does a Therapeutic School Program Differ from a Standard Preschool?
The Importance of Low Child to Teacher Ratios
Research strongly suggests that smaller class sizes and low student to teacher ratios within classes greatly impact the success of all children. Particularly in early education programs, children need individualized attention and proactive services.
The Center for Public Education recommends that 15 students to 1 teacher is the minimum of success in elementary programs, while National Association for the Education of Young Children recommends 6 children to 1 teacher during preschool programs.
The standard preschool staff does not have specialized degrees for childcare involving sensory concerns, motor development, and speech therapy. For many daycare and preschool programs, the licensing requirement for an early childhood teacher is limited college experience and at least 19 years of age. Assistants within these programs do not require any higher education or experiences, simply passing a background check is considered sufficient. Therapeutic programs and preschools typically have higher education standards for their staff and require an advanced understanding of childcare. Speech Therapy, Occupational Therapy, and Developmental Therapy all require master's degrees to become licensed specialists. Particularly working with special needs children, a higher level of education is required, and experience is pertinent.
Based on the advanced level of care, treatment, and attention provided at therapeutic schools and programs for young children, the individualized time and low teacher to student ratios are vital to the program success and student development.
Individualized Help of Sensory Concerns
There are a variety of reasons your child might have sensory concerns or challenges. No child expresses the exact same sensory concerns as the next, and all children are at different levels of severity and symptoms. Helping a child curb their sensory concerns increases a child's receptiveness to therapies, such as speech therapy and occupational therapy, as well as more early academic advances. Therapeutic preschool programs can offer specialized practices for children with sensory concerns.
The sensory techniques used through a private therapy program helps to demonstrate the difference in quality and specialization from other preschools. Program instructors assist the child through exercises throughout the day, tailored to the child's individual needs. Sensory activities help the children accumulate to the world around them through the sense of touch. These activities introduce new feelings, textures, and opportunities for sensory development as well as language skills. Gross motor free play allows high energy kids to get moving, and more reserved kids a safe space to build up their sensory input.
From fidget toys for attention concerns to a calm-down-corner for children that become easily overwhelmed, the advanced instructors can appreciate each aspect of your child and make sure they have the tools to succeed and grow when compared to a standardized setting.
Specialization and the "Whole Child" Approach
The specialized care through a therapeutic school is critical for children requiring extra attention, developmental therapies, or specialized assistance. Standard preschools have a one-size-fits-all approach to their practice. Regardless of a child's specific needs and development, children must fit into a "mold" of expectation. This type of program can lead to social isolation, educational gaps, and further harm for children with developmental concerns. With a therapeutic program, there is a "whole child" approach. It is important to get to know each child as an individual and care for what makes them unique. The importance of one-on-one time and individualized treatment that addresses specific needs is the purpose of specialized programs.
Many children who struggle in standard preschools thrive at within a specialized preschool program. Evidence suggests that children with developmental needs and speech-language concerns excel within a specialized program. A child struggling in several developmental areas can make dramatic progress with solely language skill therapy. In addition, occupational therapy and developmental therapy create well-rounded programs to bring children to a level of appropriate learning and skill. All these ingredients make a robust therapeutic school program that addresses the needs of children beyond the scope of a standard preschool.
Are you interested in receiving information or scheduling a free tour of Little Dreamers? If so, please contact: [email protected]